At Eurobox we have it clear: we want to offer the best metal packaging on the market, both for the food, perfumery and beverage sectors. We believe that our values and company philosophy is what differentiates us from the competition and what has made us a benchmark in the creation, design and manufacture of metal packaging. 
The years and our customers have shown that we meet the necessary requirements for our work to be followed and admired by companies and customers, also on the international scene, as we have received several awards. We recommend you to read: Eurobox says goodbye to a 2020 full of achievements. 
So if you are looking for customised metal packaging for your product, we are your best option. Although if we still haven't convinced you, we want to take advantage of this post to let you discover our best metal packaging in the food sector. We are sure that they will not leave you indifferent and you will be able to recognise them at a glance. 
Top best metal containers in the Eurobox food sector   
#1. Red box for Nestlé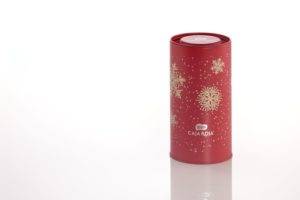 Without a doubt, the Nestlé Red Box is the perfect gift to give at any time of the year, be it for birthdays, Christmas, anniversaries… Its glitter finish on red ink and its inner lid make this box a dazzling and stylish product. 
It is also perfect to give it a second life by reusing it as a storage box. 
#2. Cola-Cao Canister
This Cola-Cao jar is so stylish and attractive because of its embossed finish on the base of the body and its outer lid that simulates a stopper. The colours chosen are those that represent the Spanish firm, which has managed to create a unique product on the market with a huge following. 
On this occasion, the traditional plastic bottle has been modified for a metal container with a more resistant and durable design.  
#3. Assortment of biscuits for Cuétara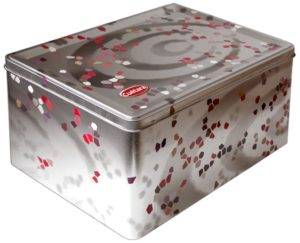 The next metal packaging from the food sector that we highlight is this box of Cuétara biscuits with festive motifs. 
It is a large rectangular packaging with a reddish colour scheme, which contrasts with the silver colour of the base.  
This box is a real eye-catcher and allows for a larger capacity of biscuits inside. Once they are gone, it can serve as an extra storage box. 
#4. Panettone metal tin for 1880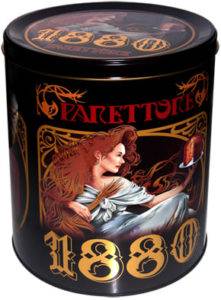 This metal sweet box stands out for its round shape and large capacity (measuring 235 mm in height) to fit a larger amount of sweets inside. 
Like the metal boxes in this small selection, it also contains an outer lid that matches the rest of the packaging, in a glossy finish and with golden motifs like those on the number. 
#5. Butter Shortbread metal tin for Marks & Spencer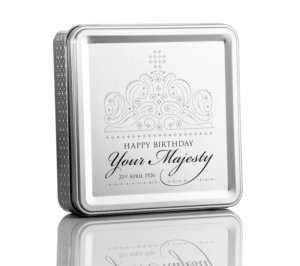 Last but not least, our metal tin for Mark & Spenser stands out in silver. This is certainly a box that stands out for its glitter finish on the tin. This, together with the typography and the crown design, make this item a stylish and high quality metal packaging. 
The design is ideal for grabbing the attention of customers over competing items. 
These have been some of our best metal packaging in the food sector, what did you think of them, and did you recognise them? 
As you will have seen, these metal packagings of prestigious brands have a unique design and are totally customised to the demands and needs of our different clients. We can also make yours!
Just contact us without obligation. We want to help you achieve success and make your product the centre of attention and desires of consumers. We offer you various options, finishes and processes to make all your products stand out at the point of sale.
To find out more about our work, discover our 8 different finishes for your ideal packaging design. It's time to go for quality and design!